Salford City Council discussion forum
Posted by: murphyrocks on 20 October 2007 at 9.15pm
Here are the pictures of Agecroft Hall that I had promised to share with you all a few months ago. This is the 15th Century Hall that was moved from England to Richmond, Virginia, USA in the 1920s (more information can be found at the Agecroft Hall website at http://www.agecrofthall.com/).
To my disappointment, the Hall staff did not allow picture taking inside of the Hall, and didn't have postcards of the interior for sale either. The tour guide was not receptive about my questions about ghosts on the site, and I didn't sense any "presences" that day, but it was very hot and humid, with thunderstorms building, so that may have affected any intuitive feelings about the place. Anyway, here are the pictures. Enjoy!

> This message was edited at 21:38 on 20 October 2007 by murphyrocks
Posted by: murphyrocks on 20 October 2007 at 9.19pm
hmmm...the pictures didn't post - I'll try again (sorry about that!)
Posted by: murphyrocks on 20 October 2007 at 9.30pm
2nd time - hopefully, I have the right links this time!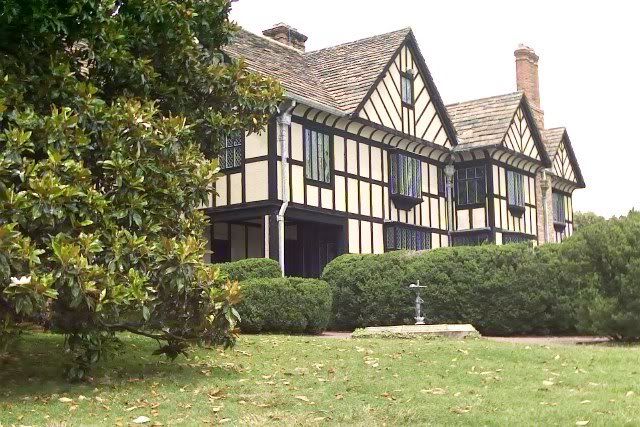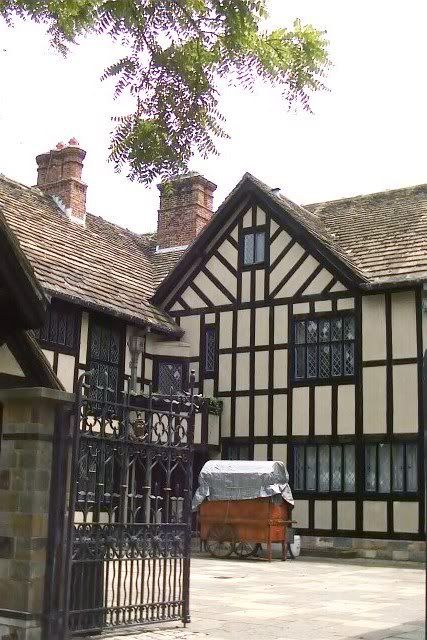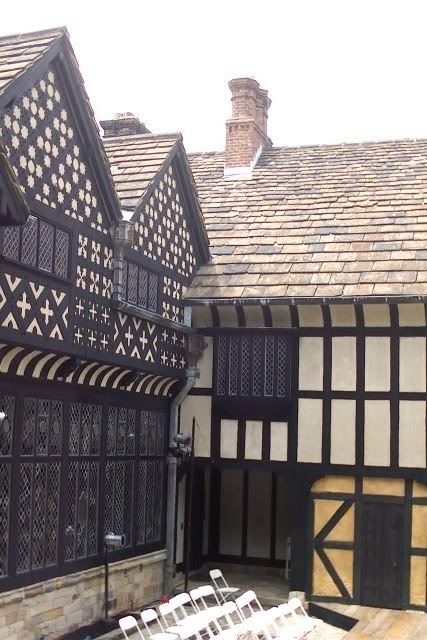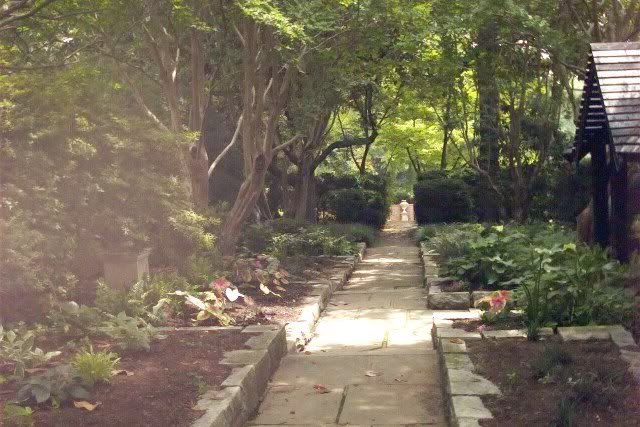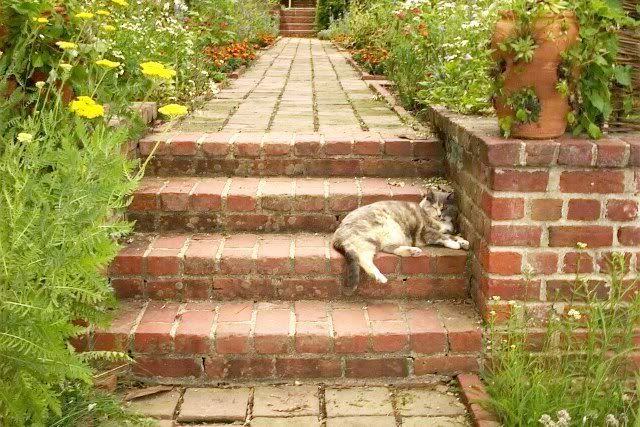 Posted by: ghostgirl on 21 October 2007 at 10.31am
Those pictures are gorgeous, Murphyrocks, and thanks so much for them! What a pity we in the UK lost such a beautiful building, and what a good thing it was preserved by the "Virginians"! Pity they weren't very receptive about the ghost topic, but never mind! Cap 4 reminds me of the courtyard at Little Moreton Hall. Glad it's still looking so beautiful!
---
Gwinni
Posted by: Guy of Warwick on 21 October 2007 at 11.40am
Hi Murphyrocks - thank you for posting the pictures of Agecroft Hall. They have carried out an excellent re-construction of this beautiful hall. It's sad to know that Agecroft Hall is no longer in situ at Agecroft in Lancashire, England, but hats off to those Virginian craftsmen who restored this magnificent building in the 1920's.

> This message was edited at 11:46 on 21 October 2007 by Guy of Warwick
Posted by: Guy of Warwick on 21 October 2007 at 11.44am
Note also the original medieval handmade brick which is evident round the site and especially prevalent in the sunken garden. The sleeping cat is a bit of a cutie too!
Posted by: Guy of Warwick on 21 October 2007 at 12.11pm
There may have been an insurance issue regarding the taking of photo's inside the hall.
Posted by: Westiegirl on 21 October 2007 at 1.06pm
And taking photo's can sometimes have an effect on the old tapestries etc. But what an absolutely gorgeous place. And Guy is correct, they have used the old brickwork to keep the atmosphere of the place, so no part has been lost. I love these old buildings. They have real charm and can delight me anytime. Such an old place MUST have a lingering spirit or two, or at least an interesting past. I'll see what I can dig up. Meanwhile thanks Murpyrocks.
Posted by: murphyrocks on 21 October 2007 at 7.54pm
I was really hoping that some semi-transparent ghosties would have shown up on the pictures, but maybe they had gone somewhere cooler for a nap! I was also disappointed that the only tours through the inside of the Hall were guided - I had been hoping to wander around by myself to absorb the feeling of the place. However, from a liability point of view, they really couldn't allow it. During the tour, the guide mentioned an elderly woman tourist (in her 70s or 80s) who absentmindly removed the chewing gum from her mouth and started to stick it onto the 15th Century furniture!!! (she was stopped, of course - but it's people like that, that make the tour experience a more distant and less personal experience).
Are the tourists generally more respectful of historical artifacts, furniture, etc in the UK? Is it just us Yanks that can be so extremely uncaring and disrespectful? I've also been to Mount Vernon (George Washington's home), Monticello (Thomas Jefferson's home) and Montpelier (James Madison's home). None of those places allow tourists to wander around like they seem to do at Ordsall. And they don't have the wonderful ghostcams either!
Posted by: Guy of Warwick on 21 October 2007 at 11.02pm
The type of tourists that visit historic castles and manor houses in the UK are generally well behaved, with a few exceptions. People who cause trouble in any society usually have no interest nor concept of history. I have come across a number of American tourists over the years and again it would depend on their level of awareness. I have been very impressed by some, though some have left me totally flabbergasted!

> This message was edited at 23:05 on 21 October 2007 by Guy of Warwick
Posted by: wyowatch on 22 October 2007 at 2.23am
Murphy..fabulous caps! The gentlman from Richmond, must have been filthy rich to undertake such a replacement. Never made any affliation to being related to AgeCroft. Glad to see they have tried to replicate the beautiful English gardens. Had it been out in the Western USA it may not have had such a beautiful setting..........as in Scotty's Castle in Death Vally, California
Thanks for posting!
wyo xx
---
Always more to explore, with Wyowatch watchin'

Posted by: Gerry Dixon on 22 October 2007 at 10.33am
Thanks Murpy for the lovely pictures - perhaps they left all the ghosties back in the UK
It is certainly a beautiful building and like gg, reminds me of the courtyard at Hever Castle!


---
Posted by: Linda Doster on 20 November 2008 at 9.30pm
Beautiful!! And I love the kitty,very much the monarch of the hall

Linda
Posted by: spooky on 20 November 2008 at 10.58pm
Fantastic pictures those are thank you for giving us the chance to see then.........SPOOKY

---
just because you cant see them. doesn't mean they aint there.
Posted by: murphyrocks on 21 November 2008 at 7.32pm

Expat,
I went to the site, and TRIED to download my Agecroft pictures, but was totally confused, and had no clue how do download them correctly - the help section was waaayyy over my computer knowledge level! I would be grateful for any assistance you could provide!
murphy
You cannot post new topics in this forum
You cannot reply to topics in this forum
You cannot attach files in this forum
You cannot edit your posts in this forum
You cannot delete your posts in this forum